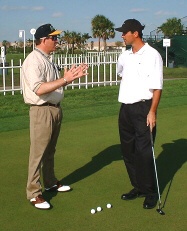 Think like a great putter and develop the mental toughness of a tour pro with one-on-one golf psychology coaching by mental game of golf expert Dr. Patrick Cohn!
If you want to improve your putting or your entire mental game, Dr. Cohn can help! He wrote the book on putting. He's the author of The Mental Art of Putting.
Dr. Cohn has helped golfers win at all levels including AJGA junior golfers, collegiate golfers, mini-tour golfers, Canadian Tour, PGA Tour, and LPGA Tour golfers.
Whether you're an AJGA junior golfer, college player, serious amateur or seasoned tour pro, golf psychology and mental game coaching can help you improve golf confidence, focus, and composure on the course and give your golf performance a boost.
You'll work one-on-one with golf psychology expert and master mental game of golf coach Dr. Cohn to:
Uncover the attitudes and mental barriers that prevent you from performing your best.
Learn the mental game strategies to boost your golf confidence and think like a champion.
Improve practice efficiency and develop focused pre-shot routines.
Create a strategy to boost your competitive edge, even when faced with setbacks!
Read more about Dr. Cohn's golf psychology programs at Peak Performnace Sports.