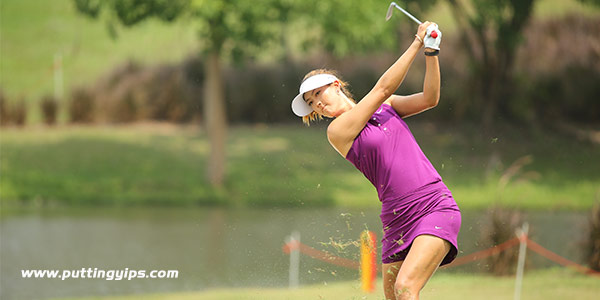 Discover Your Warning Signs to Avoid Putting Yips
Are there any warning signs for the yips? Is it possible to prevent the yips from popping up in your game?
In our Golf Mental Game Survey, many golfers express their frustration with the yips. In most instances, golfers request help to overcome the yips after having the yips for an extended period.
For example, one golfer commented in our survey, "I've had the putting yips for 6 months and can't seem to break out of them."
When you have the yips, frustration and anger build. You feel helpless and have no idea what you can do to rectify the situation or even if there is any solution at all.
Your mind is racing at a hundred miles per hour and you can't even focus. Your palms are sweaty and your shoulders are tense. You grip the club even tighter and try to control your swing. You feel mechanical.
You are acutely aware of everything going on with your stroke. Instead of focusing on hitting a good putt or shot, you are focused on not messing up too bad.
If you recognized these symptoms earlier, you could have prevented the mental meltdown from occurring. Why wait until you already have the yips before learning mental skills?
Golf is not just a physical game played with clubs and golf balls. Golf is also a mental game where strong mental skills produce better results than the most expensive golf clubs.
Mental skills training helps you recognize contributing factors of the yips so you can develop an early detection system and effective strategies to prevent the yips.
On the PGA Tour, McIlroy, four-time major winner, has struggled with his putting since play has resumed after the coronavirus quarantine. Though McIlroy stated he does not have the yips, he has exhibited some yips characteristics while putting.
At the 2020 BMW Championship, McIlroy described his putt on the 13th hole using similar language to golfers who have the yips.
McILROY: "It wasn't a yip, but it was a tentative, just not a good stroke. Sometimes with [my putter], I get a little indecisive or a little unsure of my aim and then during the stroke… at the last minute, [I think] 'Don't miss it right'…"
Does this sound like your experience with the yips? Do you become tentative, indecisive, unsure, fearful of missing a putt or taking a bad swing?
You can utilize these mental indicators as an early detection system and implement effective mental strategies to avoid falling into the yips trap.
Tip for Stopping the Yips Cycle:
How do the putting yips start? A bad putting round can trigger the yips…
This can lead to tinkering with the stroke, grip, or putter–thinking it's a physical problem with your putting.
Soon you start to focus too much on your stroke and over control it. This leads to feeling out of control and the putter jabbing at the ball.
This leads to tense putting, worry about missing or yipping, and outcome thinking.
You have to stop the cycle before it starts. This means that you have to stick with a system that worked for you and not be hasty to make a ton of physical changes because of a bad putting round.
---
Overcome The Yips and Enjoy Golf Again!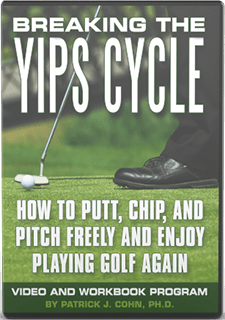 Golfers, do you suffer from:
Anxiety, tension and over control of the stroke or swing?
Performance anxiety about what others will think?
Inability to wing the club freely on the course, despite the fact that you can in practice?
Check out: Breaking the Yips Cycle
Golfers: Learn how to overcome the fear that keeps you stuck in a vicious cycle.
Instructors: Learn how to give your students the mental game edge.
Coaches: Help your team members play with freedom instead of fear or tension.
Learn more today:
What are Golf Psychology Students Saying?
"I went on to the putting green right after receiving your mail. What a great feeling of freedom. No tense at all, smiling and more consistent than ever before. I have a very low handicap and of course I have great rounds during the years, but you have taken me to a new level by curing the yips. I have just read your report again, and now I get the point in your comparing with throwing darts. I am very grateful – if you visit Denmark I will invite you out for dinner."
~Søren Meinertsen

"I read the Article on the chipping yips about 10 or 15 times now. I can feel the difference already from some of the shots that I have been hitting and I really think I can lick this. I think your mental coaching is really helping. Thank you so much!!"
~Jeff Gerling

"I've tried various things and made no progress with the yips. I found your articles and read one sentence that is changing things: It was that I should treat putts like tap ins. Putting 50 to 100 a day on the mat and the hands started to move normally. No jerking. I concentrated on one grip putting through two coins three feet away. Whether it goes in or not is secondary. Still had a few three putts, but the fear factor is gone. Many thanks and best regards."
~Otto Baer. Nagano, Japan