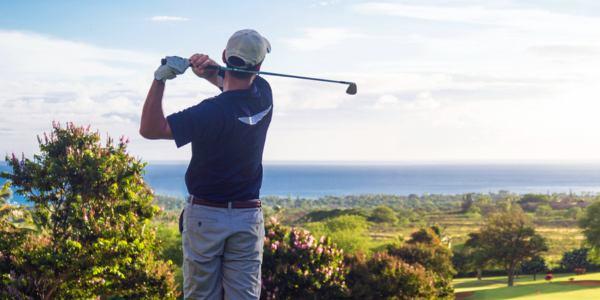 Where do the driver yips come from? How can you get rid of the yips?
These questions steadily flow into our Golf Yips Survey.
Golfing with the yips can be terrifying, maddening, frustrating, and depressing.
Ultimately, the yips can cause you to question your abilities as a golfer and the feasibility of ridding yourself of this performance block.
Imagine stepping up to the tee and staring down a narrow fairway lined with dense rough, and enormous trees knowing you have been dealing with the yips. You feel anxiety swell inside you.
Hitting the ball into the fairway feels impossible. You start to imagine every negative possibility, "What if I sail the ball into the trees? What if the ball lands in the rough? You think, "Maybe I should play it safe."
You feel everyone's eyes are locked on you, judging you. Your extra-cautious approach causes you to yip, hit the ball short, and send the ball into the rough anyway.
Every yipped shot further causes you to question if you will ever recover from this horrible condition.
Focusing on negative thoughts or extensive technical thoughts causes you to remain stuck in the yips cycle.
How can you break the cycle?
One way is to direct your focus away from thoughts about your mechanics, past results, or where the ball might land. Many golfers have overcome the yips by immersing themselves in their preshot routine.
Your preshot routine has the benefit of occupying your mind right up until you swing the club.
So, instead of focusing on the trees, you are focused on the ball… Instead of noticing your heart pounding, you are focused on slow, controlled breathing…
Instead of worrying about making a jerky swing, you are immersed in merely performing a routine that clears your mind and settles your nerves.
Golfer Sihwan Kim Struggling has struggled with driver yips throughout the 2023 season. On the LIV Golf circuit, Kim has shot a combined 68 over par in six tournaments and has beaten only six players throughout those events.
Kim opened up about his experience with the yips.
KIM: "You're standing there, and let's say there's out of bounds right and a hazard left, and at one point, I'm trying to put it in the hazard so you can go up and drop rather than being back at the tee. That's pretty much how bad it got and how my mindset was at one point."
Overthinking your strategies, over-analyzing your mechanics, or trying to remember the vast amount of technical advice given to you causes you to retreat further into your mind.
Kim also commented on "not worrying about the results."
KIM: "But that's hard to do in golf when one bad shot can pretty much ruin your day. So that's been a struggle… I've been hitting it with a lot more freedom. It all starts with a bad swing and creeps into my mental side. So I just want to get better with that."
Since conscious thoughts contribute to the problem, performing an action such as your preshot routine takes your mind off the yips and immerses you in the present.
Tips for Immersing Yourself in Your Preshot Routine:
For your preshot routine to be effective, observe the following rules:
Perform your routine before every shot, whether you are playing well or are off your game.
Keep your routine consistent. Make sure to perform each component of your routine in the same order.
Be sure to focus on the process and not a bad outcome or swing.
Avoid over controlling your swing and "grip it and rip it."
Be comfortable with your routine by practicing your routine until it becomes a habit.
---
Overcome The Yips and Enjoy Golf Again!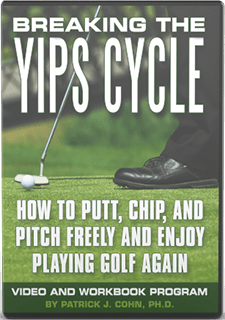 Golfers, do you suffer from:
Anxiety, tension and over control of the stroke or swing?
Performance anxiety about what others will think?
Inability to wing the club freely on the course, despite the fact that you can in practice?
Check out: Breaking the Yips Cycle
Golfers: Learn how to overcome the fear that keeps you stuck in a vicious cycle.
Instructors: Learn how to give your students the mental game edge.
Coaches: Help your team members play with freedom instead of fear or tension.
Learn more today:
What are Golf Psychology Students Saying?
"I went on to the putting green right after receiving your mail. What a great feeling of freedom. No tense at all, smiling and more consistent than ever before. I have a very low handicap and of course I have great rounds during the years, but you have taken me to a new level by curing the yips. I have just read your report again, and now I get the point in your comparing with throwing darts. I am very grateful – if you visit Denmark I will invite you out for dinner."
~Søren Meinertsen

"I read the Article on the chipping yips about 10 or 15 times now. I can feel the difference already from some of the shots that I have been hitting and I really think I can lick this. I think your mental coaching is really helping. Thank you so much!!"
~Jeff Gerling

"I've tried various things and made no progress with the yips. I found your articles and read one sentence that is changing things: It was that I should treat putts like tap ins. Putting 50 to 100 a day on the mat and the hands started to move normally. No jerking. I concentrated on one grip putting through two coins three feet away. Whether it goes in or not is secondary. Still had a few three putts, but the fear factor is gone. Many thanks and best regards."
~Otto Baer. Nagano, Japan