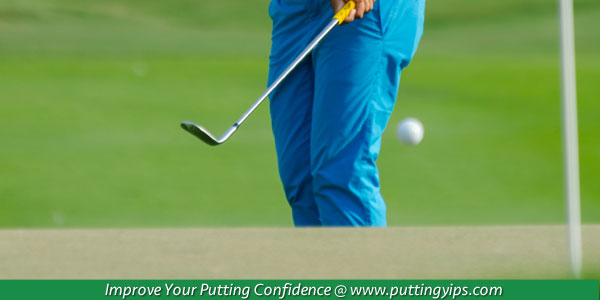 How Did Langer Handle The Yips?
Bernard Langer's problems with putting yips is well chronicled during his career. Despite having the putting yips, Langer was a consistent winner in Europe and later in the US. Bernard Langer first developed the yips when he was 18 years old. Ouch!
The yips will cause any golfer to shoot higher scores. Most, if not all, of his career he has struggled with the putting yips.
"At one point I was yipping so badly that I four-putted from three feet and actually hit the ball twice. Those were extremely difficult times. I often thought about quitting, but the breakthrough came in 1979," said Langer.
Langer started his career using a conventional putting grip in which the right hand is below the left. But he's changed his grip several times in his career to help him overcome the yips with his putting. Despite his struggles he manage to win many tournaments in his career.
How can someone with the yips most of his career win international tournaments as big as the masters?
Related Article: Johnny Miller's Struggle with the Putting Yips
He was able to reinvent his putting by changing his method and changing the putter he uses. I call this a quick fix.
You change something in your game and feel like a new person. You don't have any bad experiences with a new putter. It's harder to label yourself as having the yips with a new technique.
When Langer switched to the long putter, this seem to help him with his putting problem as with many other golfers who have went to the long putter.
The idea is that wrist movement is less with the long putter and you use the larger muscles when putting.
Translation: Anxiety will not affect the bigger muscles as much as the smaller ones.
"When you've had the yips, you want to keep the small muscles out of your stroke," said David Leadbetter, who coached Langer.
Was going to the long putter the cure for Langer's yips problems?
Only Langer can tell you for certain. But I do know that if you only search for the answer in your technique or your putter, you may never find the solution to your putting woes.
Switching putters, changing your grip, or changing your putting style might help you temporarily, but it's only masking the real problem–what goes on inside your head when you stand over a putt that causes your muscles to spasm.
---
Overcome The Yips and Enjoy Golf Again!

Golfers, do you suffer from:
Anxiety, tension and over control of the stroke or swing?
Performance anxiety about what others will think?
Inability to wing the club freely on the course, despite the fact that you can in practice?
Check out: Breaking the Yips Cycle
Golfers: Learn how to overcome the fear that keeps you stuck in a vicious cycle
Instructors: Learn how to give your students the mental game edge.
Coaches: Help your team members play with freedom instead of fear or tension.
Breaking The Yips Cycle: How to Putt, Chip, And Pitch Freely and Enjoy Playing Golf Again
What are Golf Psychology Students Saying?
"I wanted to tell you I have broken out of the yips short putt issues. I have won 2 of the last 3 competitions. Right now my putting confidence is sky high. I HAD the putt yips for past 6 years. I contribute the success to two of your drills. First focus hard on the hole, forget about all else. It took awhile to get the 100% focus, but I could see the results coming. Then your advice "Let go and trust your ability." Immediate result. Wow what a relief. Having putted for so long under yip pressure, I now feel I can be put under extreme pressure to win the club championship. I now look forward to short putts."
~Ian Dodd
"I was pleased to find your website and tips to address the mental issues with the yips. Your drills made sense to me. Other people only tackled technique. That isn't the problem with me as I can stroke them all nicely on the practice putting green. I can even hit the long ones on the course. I will keep working at it and thank you for your interest."
~Pat Collins
---

Download Our FREE Anti-Yips Putting Drills
Do you spend most of your practice time trapped by stroke or mechanics on the practice green?
Are you unsure how to practice to hep you overcome the putting yips?
Golfers: Learn how to putt with freedom using proven putting drills!
Download our FREE putting report and drills to help you unlock your putting potential today!
What are golfers saying about our putting yips drills?
"Thanks for all your help Dr. Cohn. You can rest assured that all our work came in very handy when I successfully qualified for the European Tour. I'm very happy and extremely thankful to you for helping me achieve this massive goal of qualifying for the European Tour! Thanks a lot again."
~Alex Rocha, European Tour Player
"To play well, you have to believe you can play well. Confidence goes a long way in golf. Dr. Cohn has developed a great system that helped me improve confidence and my overall mental approach to golf.
~Brian Watts, 11-time Winner on the PGA Japan Tour
---
Overcome The Yips With Expert Mental Game Coaching!
Master mental game coach Dr. Patrick Cohn can help you overcome your mental game issues with personal coaching.
You can work with Dr. Patrick Cohn himself in Orlando, Florida or via Skype, FaceTime, or telephone. Call us toll free at 888-742-7225 or contact us for more information about the different coaching programs we offer!
What are our mental coaching students saying?
"The mental side is everything in golf—the ability to see your shot or line and trust that you can hit that shot or putt. Dr. Cohn has helped me trust my game and putting  stroke.
~Frank Lickliter, PGA Tour, Nike Tour Winner
"To win at any level, you have to train both your mind and body. Dr. Cohn does an excellent job of teaching you how to develop confidence and touch around the greens, both of which are vital to any player's success. Dr. Cohn has taught me excellent practice drills for putting that have helped me become a better putter.
~J.L. Lewis, PGA Tour winner