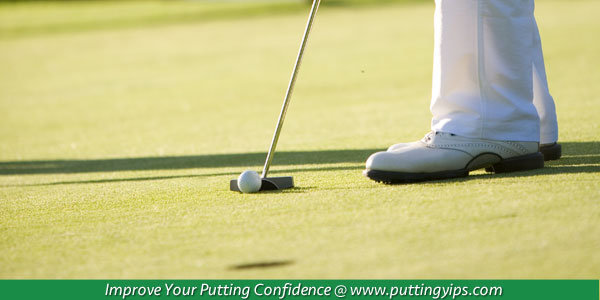 Focusing on The Process in Golf
The definition of the yips for golfers has changed over time.
Some experts would say that golfers who have muscle spasms or unwanted physical movements affecting players' shot making have the yips. Other yips experts would say that golfers with mental game or anxiety-related problems such as choking lead to the yips.
Most would agree that the 'yips' are become worse when players feel more stress and anxiety in competition.
Many people think that choking results from tension, stress, or anxiety. And this cause players to feel distracted during their performance, and thus performance suffers.
For example when performing a shot, players may be focused on the score or how others view their performance. This distracts players from focusing on the process of executing a shot successfully, which causes them to tighten up, worry about bad results, and thus choke.
The key to making a good shot is focusing on the present moment; the here and now.
Related Article: How to Focus on the Process, Not Mechanics
Focusing in the present helps players to eliminate anxiety or fear that comes from thinking about missing a shot.
When your mind wanders and you're not focused in the present or are distracted, you'll putt with fear and tension, which exacerbates the yips.
You should focus on execution and the process of making putts, rather than results or how others view your performance.
You can have less yip symptoms and choking by planning your putt, visualizing the line, aiming and aligning your body, and react to the target.
The result takes care of itself when you work the process. This is a key lesson I try to instill in my students.
Hitting good shots and making putts comes from paying attention to the process of execution. It's easy to forget this simple concept when players worry too much about missing putts or what the results "mean".
Players with a result-focus whisper to themselves things like: "Don't lip out", "I don't want to I three-putt again", "Are you going to miss another one?"
A result-focus does not lead to good execution; it only increases tension and self-doubt.
Here are three keys to help you work the process:
Remember that Only this Putt Matters. You must stay focused only on the simple task of launching your ball down the line you selected. Nothing else really matters, does it? One of the biggest errors players with the yips is thinking ahead about the results of missing a putt. Or letting the mind wander to the putt you missed on the last hole. The key is to keep your mind locked into your routine and if you lose focus, refocus attention on what you need to do: to execute a good putt.
Use a Preshot Routine. I'm a firm believer in the use of a preshot routine to help you stay focused on the present. A preputt routine is great for focusing your attention on relevant performance cues. If you don't have a routine, your mind wanders aimlessly as you prepare to hit your putt, which can open the door for doubt and fear about negative results.
Use Smaller Goals to Help You Concentrate. Small goals or process goals are easy to obtain objectives that help players focus the process of executing a task successfully. Process goals will help you focus on execution or preparation for each shot. An example of a process goal for full shots would be focusing on hitting fairways, or picking a smart target. Examples of process goals for putting include commit to your read, stay in the moment, and trust your set-up and aim.
Download my Anti-Yips Practice Drills to Help Free up Your Putting
---
Overcome The Yips and Enjoy Golf Again!

Golfers, do you suffer from:
Anxiety, tension and over control of the stroke or swing?
Performance anxiety about what others will think?
Inability to wing the club freely on the course, despite the fact that you can in practice?
Check out: Breaking the Yips Cycle
Golfers: Learn how to overcome the fear that keeps you stuck in a vicious cycle
Instructors: Learn how to give your students the mental game edge.
Coaches: Help your team members play with freedom instead of fear or tension.
Breaking The Yips Cycle: How to Putt, Chip, And Pitch Freely and Enjoy Playing Golf Again
What are Golf Psychology Students Saying?
"Patrick–something seems really weird here. You are giving out so much good material to help with the yips, and I feel like I am stealing from you! I really like your style! You don't see that very often–ever as a mater of fact! You are an amazing guy!"
~O'Jay Omlid
"I was pleased to find your website and tips to address the mental issues with the yips. Your drills made sense to me. Other people only tackled technique. That isn't the problem with me as I can stroke them all nicely on the practice putting green. I can even hit the long ones on the course. I will keep working at it and thank you for your interest."
~Pat Collins
---
Download Our FREE Anti-Yips Putting Drills Do you spend most of your practice time trapped by stroke or mechanics on the practice green?
Are you unsure how to practice to hep you overcome the putting yips?
Golfers: Learn how to putt with freedom using proven putting drills!
Download our FREE putting report and drills to help you unlock your putting potential today!
What are golfers saying about our putting yips drills?
"I've had the yips for 30 years. With the anchor ban, I thought I needed to quit golf. It was frustrating hearing golf experts and commentators state that no amateur was going to quit golf because of the anchoring ban. Obviously, these experts don't know anything about the yips. I'm so glad I found you. Your drills really helped. It might sound silly, but the biggest thing that helped me is knowing that the yips is mental. It might sound crazy, for someone to have the yips for 30 years, and not know it's mental. I also believe I know my reason for having the yips, and I see how my insecurities in every day life contributed to the yips. Thank you for your help."
~Kevin Stankewicz
"I went on to the putting green right after receiving your mail. What a great feeling of freedom. No tense at all, smiling and more consistent than ever before. I have great rounds during the years, but you have taken me to a new level with you tips for the yips. I am very grateful – if you visit Denmark I will invite you out for dinner."
~Søren Meinertsen, Denmark
---
Overcome The Yips With Expert Mental Game Coaching!
Master mental game coach Dr. Patrick Cohn can help you overcome your mental game issues with personal coaching.
You can work with Dr. Patrick Cohn himself in Orlando, Florida or via Skype, FaceTime, or telephone. Call us toll free at 888-742-7225 or contact us for more information about the different coaching programs we offer!
What are our mental coaching students saying?
"I write you because it's been 6 months since I started the program Breaking the Yips Cycle. Before that I was putting with a long putt and due to the ban on anchoring I switched to a short putt and started your program. The yips program has helped me a lot. I have been able to focus on what matters instead of thinking about the outcome or fearing a yippy stroke."
~Ricardo Abogabir C.
"I wanted to tell you I have broken out of the yips short putt issues. I have won 2 of the last 3 competitions. Right now my putting confidence is sky high. I HAD the putt yips for past 6 years. I contribute the success to two of your drills. First focus hard on the hole, forget about all else. It took awhile to get the 100% focus, but I could see the results coming. Then your advice "Let go and trust your ability." Immediate result. Wow what a relief. Having putted for so long under yip pressure, I now feel I can be put under extreme pressure to win the club championship. I now look forward to short putts."
~Ian Dodd