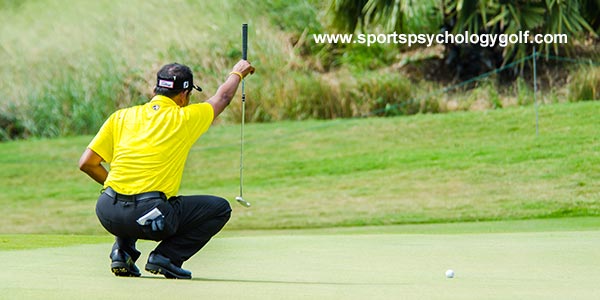 The Putting Yips in Golf
The putting "yips" are one of golf's most perplexing challenges…
Golf and putting is not fun if you think you have the yips. The yips have driven more good golfers to give up the game than any other golfing challenge.
When players label themselves as having the putting yips, they think they have an incurable disease.
Putting confidence declines and the fear of missing putts makes matters worse. Players who suffer from the fear of missing don't like to putt.
The more they putt, the worse it gets, until it's intolerable. This leads golfers to believe they have an affliction that they must learn to play with.
When golfers condition themselves into believing they have the yips, it is extremely hard for change to occur.
The putting yips start with poor results and missing short putts. Players then progresses to the fear of missing putts, which intensifies the fear of putting.
Players begin to feel like it's a physical condition; they believe that it can be corrected with a change in technique or practice habits. But the golfing yips come from the golfer's inability to gain neuromuscular control due to poor attentional focus, over control or anxiety.
Intense anxiety or fear does not allow the golfer to control his stroke and putt smoothly. The player freezes and can't draw the putter back from the ball and initiate the putting stroke.
He wants to move the club back, but his hands and arms are in a vise. It's like a deer that freezes in the middle of the road by the fear of an approaching car. Another form of the yips occurs when the player tenses up at impact and feels like he or she is stabbing at the ball.
The putting yips are not uncontrollable; they are curable.
Related Article: What Causes Yips Symptoms?
Several PGA touring professionals, such as Bernhard Langer, who suffered from the yips have learned to putt with freedom again. But you have to stop labeling yourself as having a physical "illness" that causes you to jab at your putts.
You must understand that the physical symptoms of the yips come from a poor mental game.
You can overcome the putting yips with the right mindset and type of practice. Download my free anti-yips putting drills to help you get started.
---
Overcome The Yips and Enjoy Golf Again!

Golfers, do you suffer from:
Anxiety, tension and over control of the stroke or swing?
Performance anxiety about what others will think?
Inability to wing the club freely on the course, despite the fact that you can in practice?
Check out: Breaking the Yips Cycle
Golfers: Learn how to overcome the fear that keeps you stuck in a vicious cycle
Instructors: Learn how to give your students the mental game edge.
Coaches: Help your team members play with freedom instead of fear or tension.
Breaking The Yips Cycle: How to Putt, Chip, And Pitch Freely and Enjoy Playing Golf Again
What are Golf Psychology Students Saying?
"I have spent hundreds to dollars on clubs, putters, etc. always looking for answers. But I knew this was not going to work because I have some internal issues I had to deal with on the golf course. Working with Dr. Cohn on mental game by far is the best investment I have made. I have some great tools to work on to see my mental game improve.  I feel better now than I have ever have on the golf course and I thank you so much for helping me with the positive mental direction."
~Sean McQueary
"I write you because it's been 6 months since I started the program Breaking the Yips Cycle. Before that I was putting with a long putt and due to the ban on anchoring I switched to a short putt and started your program. The yips program has helped me a lot. I have been able to focus on what matters instead of thinking about the outcome or fearing a yippy stroke."
~Ricardo Abogabir C.
---

Download Our FREE Anti-Yips Putting Drills
Do you spend most of your practice time trapped by stroke or mechanics on the practice green?
Are you unsure how to practice to hep you overcome the putting yips?
Golfers: Learn how to putt with freedom using proven putting drills!
Download our FREE putting report and drills to help you unlock your putting potential today!
What are golfers saying about our putting yips drills?
"I've had the yips for 30 years. With the anchor ban, I thought I needed to quit golf. It was frustrating hearing golf experts and commentators state that no amateur was going to quit golf because of the anchoring ban. Obviously, these experts don't know anything about the yips. I'm so glad I found you. Your drills really helped. It might sound silly, but the biggest thing that helped me is knowing that the yips is mental. It might sound crazy, for someone to have the yips for 30 years, and not know it's mental. I also believe I know my reason for having the yips, and I see how my insecurities in every day life contributed to the yips. Thank you for your help."
~Kevin Stankewicz
"Yes! Awesome tips and they worked great. I was having a tough time mentally with putts inside of 4 feet for self imposed fear of missing them. After doing all of your drills I found myself just looking at the hole on the shorts putts similar to a free throw. Seems to be working. Thank you so much!"
~Shawn Barr
---
Overcome The Yips With Expert Mental Game Coaching!
Master mental game coach Dr. Patrick Cohn can help you overcome your mental game issues with personal coaching.
You can work with Dr. Patrick Cohn himself in Orlando, Florida or via Skype, FaceTime, or telephone. Call us toll free at 888-742-7225 or contact us for more information about the different coaching programs we offer!
What are our mental coaching students saying?
"Patrick–something seems really weird here. You are giving out so much good material to help with the yips, and I feel like I am stealing from you! I really like your style! You don't see that very often–ever as a mater of fact! You are an amazing guy!"
~O'Jay Omlid
"I went on to the putting green right after receiving your mail. What a great feeling of freedom. No tense at all, smiling and more consistent than ever before. I have great rounds during the years, but you have taken me to a new level with you tips for the yips. I am very grateful – if you visit Denmark I will invite you out for dinner."
~Søren Meinertsen, Denmark